Custom Offering/Tithing Envelopes
for your Church or Place of Worship
| | |
| --- | --- |
| MyOfferingEnvelope.com is a Maine-based printing company specialized in customized offering envelopes, tithing envelopes, and tithe envelopes for your church. We have been proudly serving our community for over 25 years! Our returning customers are a true testament to our company's exceptional support, services and reliability. With our competitive tithe envelope pricing and efficient processing, we are here to make sure your order is hassle-free from start to finish. | We welcome all denominations of all religious backgrounds. We are excited to provide our clients with a wide variety of offering envelope services. Our contemporary designs and modern church layouts, are sure to catch your prospective contributors' attention. View our offering envelope portfolio to see a few of our printed designs and get inspirations for your own offering envelope. Creating and ordering tithe envelopes couldn't be easier! |
Our Tithe Envelopes Come in 2 Standard Sizes:
| | |
| --- | --- |
| Pew-Size-1 (large): 6½" x 3⅝" - Our best-selling offering envelope for best print performance. Features a commercial triangular envelope flap. | Pew-Size-3 (small): 6¼" x 3⅛" - AKA the Dollar Size Envelope, fits standard and smaller pew openings. Features an easy open envelope flap with thumb cut. |
Envelope Shipping Options:

We value and appreciate our clients' business, therefore we extend our Free shipping to your church on bulk offering envelope orders of 2,500 or more! Orders issued with ground and free shipping will be processed for delivery within a few business days. All your overnight, 2-Day, and 3-Day purchases will be processed within 24-48 business hours.

Our Free Offering Envelope Template:

Download our free offering envelope template and start designing your own offering or tithe envelope with ease (InDesign, Photoshop or Illustrator recommended). Our tithe template is created to upload perfectly into our ordering system and will be saved in your account for easy re-ordering. If you need help creating your tithe envelopes please visit our offering envelope design services page.
- Explore our wide range of pre printed church envelope layouts -
Church Offering Envelopes
Modern high quality pre-printed tithe envelopes for any church, synagogue, or other denominations or faiths. Our high quality stock offering envelopes are printed in Maine and come in increments of 500. We carry over 80 different offering envelope layouts for you to choose.
From Christmas and Easter tithing envelopes, to various building fund and standard offering envelopes. All our stock offering and tithe envelopes come in one standard size: 6¼" x 3 ⅛" and feature an easy open flap.
SHOP
Pricing
- Order your offering envelopes in boxed sets of 52 -
Offering Envelopes Boxed Sets
Offering Envelopes in Sets of 52
Our box sets come with 52 envelopes per box. Custom boxed set tithing envelopes are a set of weekly envelopes for every Sunday/Service of the year.
Standard Dollar Size: 6 1/4" x 3 1/8" (Our Pew-Size-3)
Minimum Order: 25 Boxes
Order Boxed Sets
- Have your own printer? Use our blank offering envelopes for your printing -
Blank Tithing/Offering Envelopes
Blank Offering Envelopes
Standard blank tithe envelopes. All blank offering envelopes come in one standard size: 6¼" x 3 ⅛" and feature an easy open flap.
If you want to print smaller quantities at the time, these blank tithe envelopes are the perfect choice. Offering envelopes can be ordered in increments of 500 and ship within 1-2 business days.
Order Blanks
- Reach your parishioners by mail. Tithes/Offerings can be sent back in a Remittance Envelope -
Custom Donation Envelopes
Our Custom Printed Remittance Envelopes are a perfect fit for Church Donations where you would like your members to mail back their offerings or tithings. Also perfect for Political Campaigns, Fundraisings, and especially for mailing purposes to conceal confidential information. Please visit our remittance envelope website or download our free Remittance Envelope Template and create your own design first!
Visit Site today
Pricing
- Learn more about our Tithe Envelopes -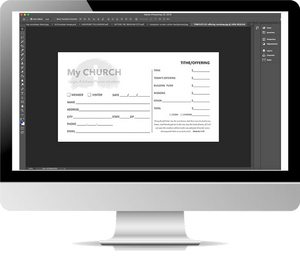 Tithe Envelope Design Tips
Read our tips for creating and designing the perfect custom offering envelopes. 
Envelope design Tips
What are Tithe Envelopes?
Learn all about the ins and outs of our custom offering envelopes.
Learn More
Shipping Information & FAQs
Check out our FAQs page for all your questions about our offering envelopes.
More FAQs
Frequently Asked Questions About Our Custom Offering Envelopes
We have been in the church offering envelope printing business for more than 25 years now, proudly serving the United States. Our fast service, competitive prices, and overall value are why our customers keep coming back. If you have any other questions about our tithe envelopes please feel free to contact us. For more FAQs please visit our FAQ page.
What size are the tithing envelopes?
Pew-Size-1 Envelopes are 6½" x 3⅝" (same size as an Envelope #6 3/4). Stock: 24lbs White Wove
Pew-Size-3 Envelopes are 6¼" x 3⅛" AKA Dollar Size or Money Envelopes. Stock: 20lbs White Wove
Do you print the envelopes in languages other than English?
We print in all languages, given the layout is provided properly. We can only proofread in English and German.
How much do your custom offering envelopes cost?
All prices can be viewed here.
How fast will you ship my offering envelopes?
Overnight, 2nd Day Air and 3 Day-Select tithe envelope orders ship within 24-48 business hours. All other envelope orders ship within 2-5 business days. Orders with free shipping go out within 6-10 business days. Orders with expedited processing fee ship within 24 business hours.