Offering Envelope Ordering Options
Please choose from one of the four options below. If none fit your needs, please contact us.
---
My layout is READY to print
Click the UPLOAD & ORDER button when you have made the layout either by yourself using the provided Template or your layout is made at the size of the offering envelope you want to order.
Also, please use this option when we have emailed you a print-ready layout previously.
Accepted file types: PDF, JPG, JPEG, PNG.
UPLOAD & ORDER
Previously uploaded designs by our clients. More in Portfolio.
Order from our Pre-designed Templates
Look through our pre-designed offering envelope templates and find the style that best exemplifies your churches spirit. On the following pages follow the simple instructions to create and order your new offering envelopes.
Create & Order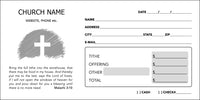 I DON'T have any design yet
Please use our DESIGN SERVICE. We offer predefined templates for you to choose from. Please note all information on our templates are placeholders and can be moved, changed, or rearranged etc.
Layout Fee: $35
DESIGN SERVICE
I want to do it myself
Please use our Free Templates and follow the instructions by clicking on the button below. Using our template guarantees your design fits our print and upload criteria when ordering your offering envelopes. Check our Portfolio page to get inspired.
Fee: $0
Download Template
My layout is NOT READY yet
We convert WORD files, EXCEL files, PUBLISHER, or any other  file format into print ready PDF files.
Also, choose this option when you have an envelope sample but cannot locate the original file. Simply just scan or take a picture of the envelope. You will be prompted to upload any file, scan or photo at the next step and our team of experts will take care of the rest.
Conversion Fee: $35
Convert