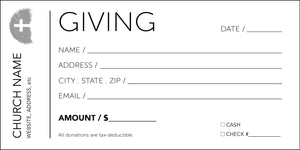 Please select logo and add text, the layout above will update in real time.
Please double check and proofread prior to ordering since this is how your printed offering envelopes will look. 
If you need a more customized layout with your own logo and more options in size and colored print please use our paid service here.
These Offering envelopes are one size only: (Pew-Size-3 - 6¼" x 3⅛")
← Previous Layout
See All Layouts