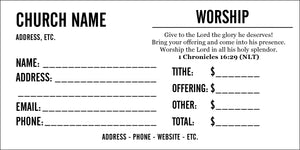 Please add name of church and all additional info needed, the layout above will update in real time.
Please double check and proof-read prior ordering, since this is how your printed offering envelope will look. 
If you need a more customized layout with your own logo and more options in size and colored print please use our paid service here.
This envelope comes in the standard Offering Envelope size: (Pew-Size-3 - 6¼" x 3⅛")